Thomas Petrou is an American social media star best known for his Tik Tok appearances and his self-titled YouTube channel, which has 188k subscribers. He was a teenage model before making his way into the social media industry.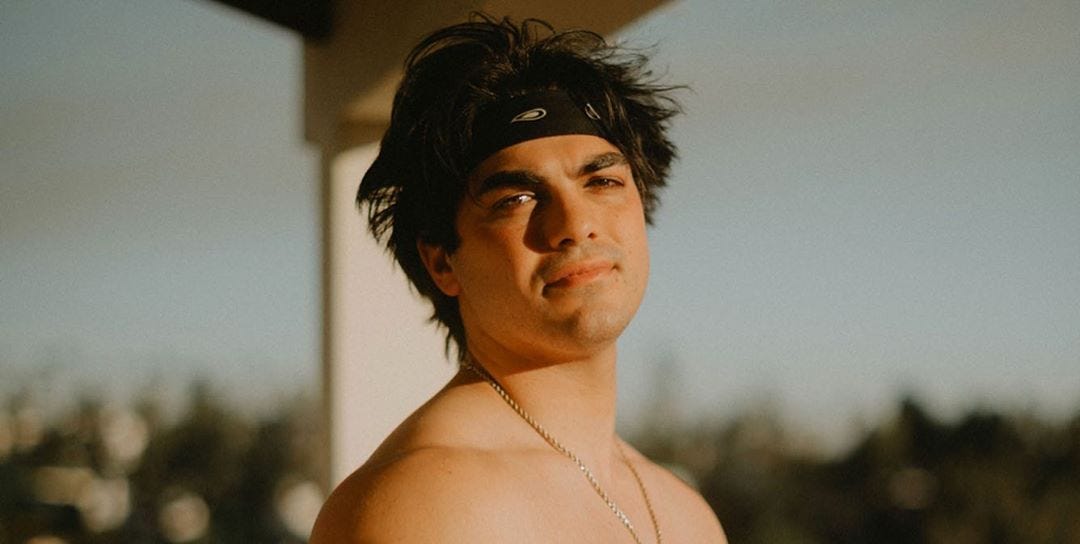 Thomas has collaborated with Team 10 (Jake Paul's Team) and Hype House as a social phenomenon. He is the creator of Hype House (2019)
Biography of Thomas Petrou
Thomas Petrou was born in the United States on September 2, 1998. He grew up in a family with four siblings: Oliver Petrou (his twin brother), Giorgio Petrou, Selina Petrou, and Lizette Petrou. Aside from that, he regards Charlie D' Amelio (Tik Tok Star of Hype House, which he founded in 2019) as his younger sister.
Charli D' Amelio, a Tik Tok star, and Thomas Petrou (Thomas Petrou/Instagram)
You might also like to read about Candace Owens
On the other hand, there is little information about his parents; however, he has covered some videos about them, but with limited knowledge.
In terms of physical stature, he stands at a respectable 5 feet 11 inches tall and weighs 73 kg.
Thomas, the founder of Hype House, member of Team 10.
Thomas Petrou, a former YouTube star, has stopped posting videos on his channel for about three months. Prior to that, he frequently shared fashion, lifestyle, and Q&A videos on his self-titled channel.
Thomas, 21 years old, rose to prominence after joining Team 10 in 2017. Team 10 is a social media star Jake Paul's content team, with whom he has a close friendship. During that time, Thomas posted daily vlogs on his YouTube channel for 560 days in a row.
Later, in 2019, he founded the Tik Tok group Hype House, which includes celebrities such as Charlie D' Amelio, Daisy Keech, Chase Hudson, Tony Lopez, and many others. Thomas has 3.4 million followers on Tik Tok, where he posts a variety of videos based on lip-syncing, pranks, and other topics.
Relationship Life of Thomas Petrou
For five years, Thomas had a peaceful relationship with Kayla Pimentel.
They began dating in May 2014 and have worked together on YouTube videos such as Exposing My Girlfriend On Her Birthday, Girlfriend Does My Makeup, and Let's Have A Baby Prank On Girlfriend.
However, they split up in December 2019, and it appears that it was one of the most heartbreaking experiences for Thomas Petrou. On December 3rd, 2019, he revealed his divorce from his ex-girlfriend, Kayla Pimentel, in a YouTube video. Both Thomas and Kayla appeared in the video and stated that they had been separated for four/five months.
They stated that neither of the couples betrayed anyone and that, despite their divorce, they remain friends. They started dating in their mid-teens (nearly 15) and had been friends since freshman year of high school.
Thomas hasn't released any new content on his YouTube channel since revealing his breakup in a video. This demonstrates how devastating his split was.
Net worth of Thomas Petrou
Thomas Petrou's net worth is estimated to be $4.43 million.
The finalized net worth of Thomas Petrou is still being verified, but networthspot.com believes it is close to $4.43 million.
The $4.43 million figure is based solely on YouTube advertising revenue. That is, Thomas Petrou's net worth could be higher. With these additional sources of income, Thomas Petrou's net worth could be closer to $6.21 million.
Quick facts of Thomas Petrou
| | |
| --- | --- |
| Name | Thomas Petrou |
| Nick Name | Thomas |
| Born | September 2, 1998 |
| Age | 21 years old |
| Profession | TikToker, Youtuber |
| Famous for | Youtube channel |
| Birthplace | United States |
| Nationality | American |
| Sexuality | Straight |
| Religion | Christianity |
| Gender | Male |
| Ethnicity | Mixed |
| Zodiac Sign | Gemini |
| Height | 5 ft 11 inch |
| Weight | 60 kg |
| Hair color | Blonde |
| Eye color | Hazel |